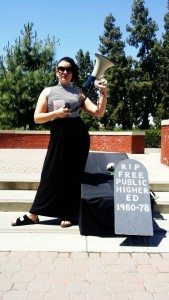 Students for Quality Education (SQE) was formed in 2007-2008 by students in the California State University (CSU) system to build the student movement for educational rights in public higher education. We were assisted in our efforts by the California Faculty Association.
Our movement for educational justice in the CSU is not new. Students in the 1960s fought to open up the University for working families and immigrant students. They demanded high quality and relevant education, and badly needed student services such as the Educational Opportunity Program (EOP). From this movement the CSU grew to become the People's University, open to all who met the basic requirements for entrance.
However, in 2002-2003, a recent wave of budget cuts from the state government began, which resulted in students organizing to oppose budget cuts and massive student fee hikes. Students around the CSU organized marches, rallies, lobbied their legislators and Governor to stop these attacks on students. Their efforts resulted in helping to save EOP from elimination by Governor Schwarzenegger in 2004-5.
More recently, in 2007-2008, the growing U.S. economic crisis has further exasperated the state's budget crisis and led to a new wave of statewide student fee hikes at the same time as classes are being eliminated and it is taking a longer time to graduate. Undergraduate fees have risen 182 percent since 2002, yet we cannot get the classes we need to graduate and find jobs in the state economy. Instead, many of our programs are threatened with elimination and we are told that 40,000 students will be denied access to the CSU in the next two years. This is unacceptable, and SQE is organizing to stop these attacks from happening on CSU campuses around the state.
To get in touch with an SQE Chapter on your campus, please go to Chapters