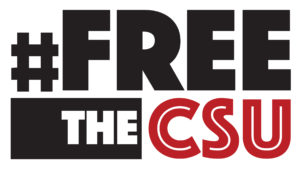 Tell G
overnor Brown and the state legislature to
#FreeTheCSU
by providing the funding needed to stop yet another tuitio
n increase! Join students, faculty, staff, and community allies on April 4th as we
raise our collective voice
at the state capitol to demand a fully funded CSU.
We demand an end to chronic disinvestment in the CSU and tuition hikes, protection for our undocumented CSU community members, and a path towards free public higher education in California.
On the 50th anniversary of Dr. Martin Luther King Jr's assassination, we also demand that the state
#FundTheDream
and recognize that funding the CSU is a racial justice issue. Students of color, who make up the majority of the CSU student body today, deserve the same quality and affordable education that CSU students had 50 years ago.
On April 4th we will take action to
#FreeTheCSU
from tuition increases, deportation, privatization, threats to academic freedom, and more! Will yo
u join us?